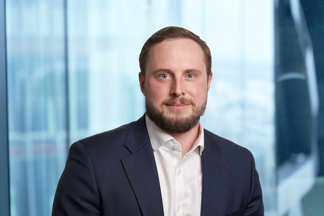 London
The Leadenhall Building
122 Leadenhall Street,
London, EC3V 4AB, UK
About Paul Carrington
Paul joined Brit in June 2021. He has 6 years of underwriting experience in the London Market, having most recently spent a further 12 months managing a Credit Risk team. Paul's Political & Credit Risk career has included roles as a Country and Credit Risk Analyst, Underwriter and in portfolio transformation. He has considerable exposure to corporate, structured, asset backed, and sovereign finance, along with political risk/CEND coverage. During his career Paul has supplemented his strong and transferrable technical underwriting capabilities with deep client and broker relationships. He is a member of the Chartered Institute of Credit Management and holds a master's degree in Security Studies from King's College London and a first-class honours degree in International Politics and Security Studies from Aberystwyth University.